If you're looking for a stylish and durable alternative to marble, quartz countertops are a great option. Their sleek and chic aesthetic and excellent practical benefits make them a favorite choice in kitchen design. Let's get to understand the fundamentals of quartz countertops, their advantages and the pleasure you'll get when your quartz countertop looks like marble.
Understanding Quartz Countertops
Quartz countertops are made from engineered stone, consisting of approximately 90% ground quartz minerals combined with polymer resins and pigments. The quartz provides strength and durability while the resins bind the material together and allow vivid colors and patterns.
The manufacturing process allows quartz to mimic natural stone with more control and consistency. While granite and marble are mined in large slabs from quarries, quartz is crafted into specific dimensions in a factory. This gives quartz an advantage in color precision and minimizing imperfections.
Quartz countertops have become a popular option for kitchen and bathroom remodeling projects and rank among the best marble countertop alternatives. With the look of natural stone but easier maintenance, quartz offers an attractive and practical alternative to traditional materials like granite and marble.
Strengths and Weaknesses of Quartz Countertops
Quartz has many benefits that make it a smart design choice. It's extremely durable and resistant to scratches, chips, cracks, heat and stains. Quartz requires low maintenance as it does not require regular sealing and its non-porous surface inhibits bacteria growth. Quartz also offers consistent color and patterns to ensure a breathtaking, stylish appearance.
Potential downsides of quartz include a higher cost than laminate or tile and a slightly artificial appearance depending on the maker. Quartz can also be difficult to repair if chips or cracks do occur.
The Manufacturing Process of Quartz Countertops
Quartz countertop slabs are made in factories using advanced equipment and techniques. Here is a basic overview of the manufacturing process:
Natural quartz is mined and then crushed into a powder.
Resins, pigments, and other materials are added to the quartz particles.
The mixture is compacted into a mold at high pressure and vibrated to remove air pockets.
The slab is baked at high temperatures to cure the resin.
Slabs are polished to the desired finish — glossy, matte or textured.
Slabs are cut to standardized widths and lengths for installation.
Precision technology allows quartz slabs to be made with remarkably consistent color and patterning. This distinguishes engineered quartz from the unique variations of natural stone.
Advantages of Quartz Over Marble
Quartz is generally considered superior to marble in terms of:
Durability: Quartz is harder and less prone to scratches, cracks and chips.
Maintenance: Quartz requires very little upkeep compared to marble's need for regular sealing.
Consistency: The engineered process results in even, predictable color and patterning.
Stain resistance: Non-porous quartz resists most common kitchen stains.
Some cons of marble include staining, etching from acids and pitting over time. Quartz offers better long-term resilience and keeps its just-installed look.
However, marble still holds a few advantages. Marble conveys an elegant, timeless look that quartz cannot precisely duplicate. And as a natural material, no two marble slabs are exactly the same.
The choice ultimately comes down to priorities. For low maintenance and reliability, quartz usually wins. But for a classic luxurious aesthetic, marble still reigns supreme.
Mimicking Marble Looks with Quartz Countertops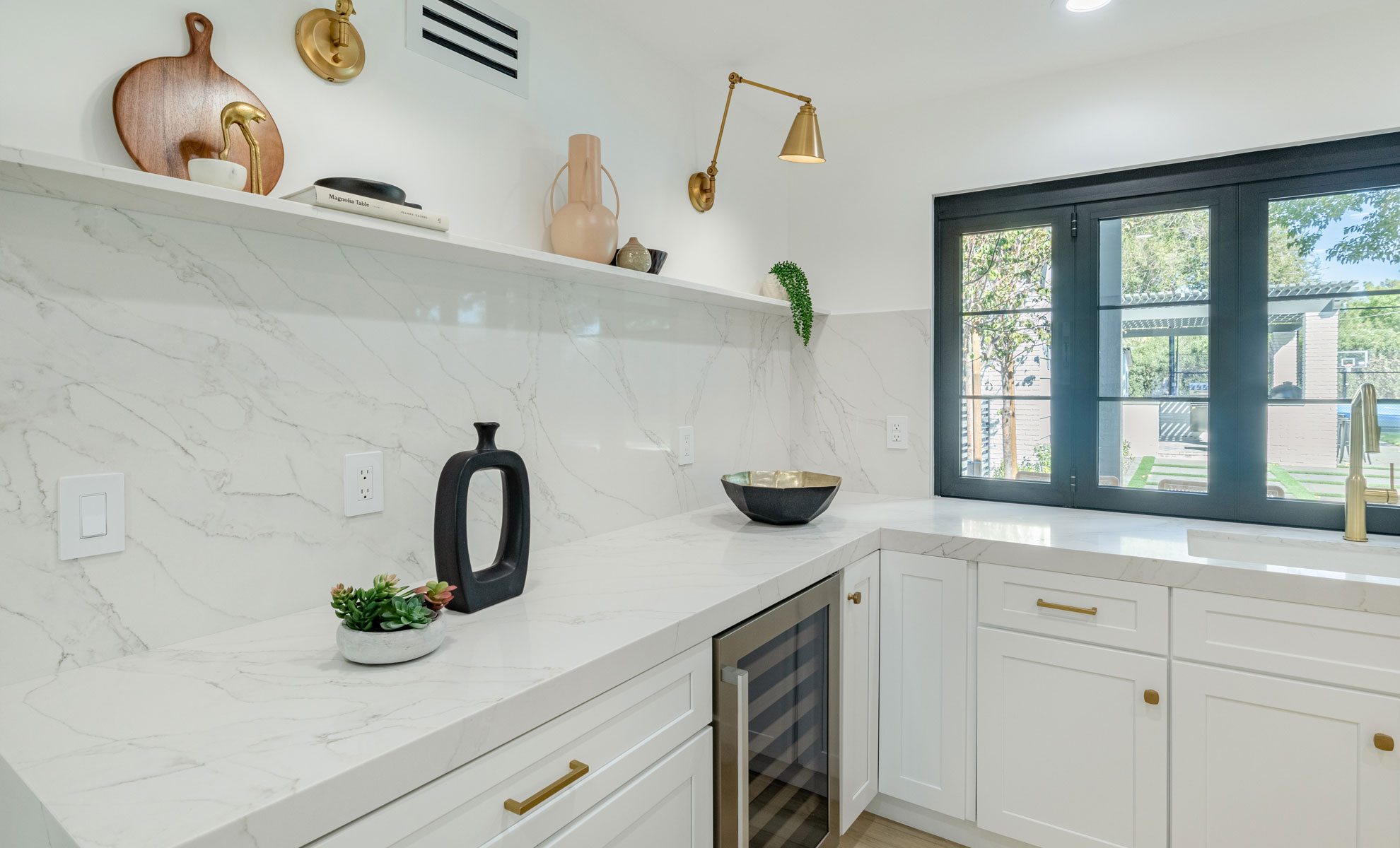 Quartz countertops provide a popular alternative to natural marble for home kitchens and bathrooms, especially when the quartz are from a high-quality manufacturer that prioritizes both aesthetics and functionality. Look no further than Vadara Quartz.
With our advanced manufacturing techniques, our white marble quartz countertops realistically mimic the veining and visual depth of natural marble stone while offering extra durability.
Examples of Quartz That Look Like Marble
Vadara Quartz offers several products that closely resemble white Carrara or Calacatta marble. These include:
4 Quartz Countertop Alternatives to White Marble
For a look that evokes marble without directly copying its appearance, consider these off-white and gray-toned quartz products from Vadara Quartz:
These more unique options capture the essence of marble's beauty without imitating it exactly. Our one-of-a-kind patterns add distinctive style.
Matching the Quartz Countertops with Kitchen Décor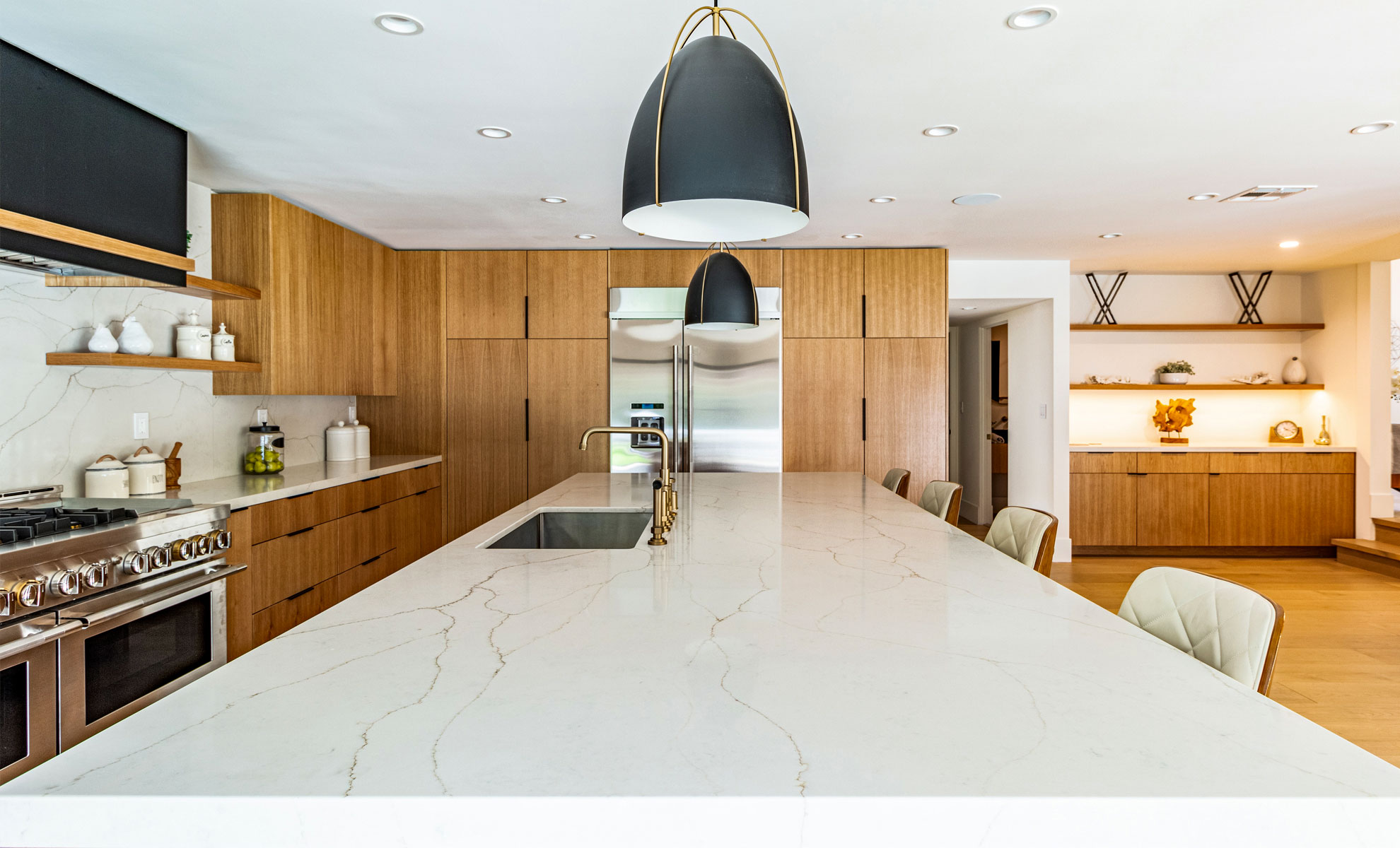 A marble-look quartz backsplash beautifully pairs with countertops. Contrast brightly veined quartz with plain white cabinetry or match soft-toned quartz with wooden cabinets. Consider how your cabinet selection impacts the whole aesthetic.
Vivid quartz patterns make a striking statement. Downplay the backsplash and flooring so the countertops stand out. Exposed brick walls or glossy cabinets enrich the contrast. Sample quartz slabs in your home under various lighting to ensure an integrated, stylish finish.
How to Choose Quartz That's Right For You
When selecting marble-like quartz, here are a few tips to ensure you make the right choice:
View slabs in person to see fine details and color variations.
Compare options across brands to find the best match for your vision.
Consider how pigments, particulates and gloss levels influence appearance.
Envision how the material pairs with cabinetry, flooring and decor.
Review quartz ratings for stain resistance, durability and warranty coverage.
Calculate total costs with installation and backsplash materials.
Discuss your lifestyle needs with kitchen design professionals. With careful selection, you can enjoy the look of marble for years to come.
The Vadara Quartz Way
If you're interested in installing a quartz countertop that looks like marble in your home, trust the experts at Vadara Quartz.
At Vadara Quartz, our surfaces empower your creativity and inspire your dreams by fusing meticulous craftsmanship, natural inspiration, and the unparalleled resilience of quartz. Our designers travel the world finding beauty in nature's marvels, then handcraft that vision into timeless quartz collections with vivid artistic details.
We combine high-quality natural quartz with imaginative artistry through rigorous research, development and quality control. The result is polished perfection —quartz surfaces that capture natural wonder and transform your spaces into enduring, original masterpieces.
When you choose Vadara Quartz, every moment and every space holds the power to elevate your everyday experience. Our surfaces become a canvas for your vision, building on strong foundations so you can explore, dream and create.
Contact us today to find the perfect countertop for your space!