The decision to proceed with a kitchen remodel – no matter how small – can feel like a big responsibility. There are many variables to consider and it can be difficult to weigh their importance individually while also working in concert with one another. Kitchen counter surfaces are among the most challenging aspects of any redesign.
Before your kitchen remodel, consider the following:
Know your budget
Consider your aesthetic desires versus your practical needs
Where you prefer to fall on the line of trendy versus timeless
The good news is modern design desires call for modern solutions, and there are plenty of those in the world of home improvement – such as Vadara Quartz Surfaces — a beautiful, practical, and affordable kitchen design material.
Quartz Countertop Performance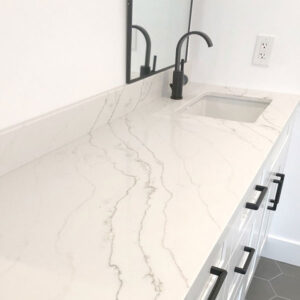 For one family, their desire for natural stone felt at odds with their desire for low maintenance kitchen surfaces. They were beyond thrilled to learn about Vadara quartz countertops. Vadara is composed of 93% quartz which offers a natural stone style, but also provides superior durability than most traditional options.
For countertops, porosity is a major concern – the more porous a material is, the more substances it can absorb, which is a liability in an environment that sees frequent use of oils, meats, sauces, detergents, and any other number of potential stains. Unlike other counter options where sealing and other regular maintenance are absolutely necessary to ensure your investment isn't ruined, Vadara quartz is completely non-porous and requires no sealing at all. For these happy clients, and many others, this was a major advantage offered by Vadara that didn't involve any compromise on their aesthetic goals for their home.
Custom Fit in a Bathroom or Kitchen Remodel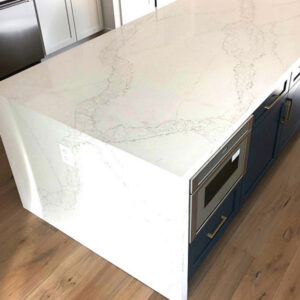 These particular clients had a remodel that expanded beyond the scope of just one room. It included the kitchen as well as three distinct bathrooms. Although they wanted their home to work in harmony, they also had different visions for each room and didn't necessarily feel the need to make everything match. For this reason, they were excited to learn not only about the benefits of Vadara, but also its diversity and range in terms of available colors and styles.
Ultimately, they chose Calacatta Dorado and Bronzo for different features in each of the rooms getting remodeled. When designing their island, the client approached the designer with an idea of a waterfall end. They ended up choosing to do them on both sides for a clean and sleek aesthetic. Although at first there were some concerns about the continuity of the grain, they quickly found Vadara lent itself to producing seamless lines with virtually perfect alignment. This effect was beautifully amplified by their desire to add a 2.25" edge to their island which really cemented its place as the focal point of the kitchen.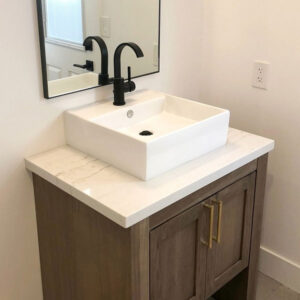 A kitchen remodel isn't always the easiest process, but it is an incredibly fulfilling one – especially when positive collaboration between the clients and designers leads to checking off every item on the wishlist while also remaining within the allotted budget. For those considering a kitchen remodel in the future, Vadara may be the perfect solution.
This kitchen design was done by Brad McCarthy of The Cabinet Center. You can reach him at brad@thecabinetcenter.com for a free, no-obligation, design consultation.