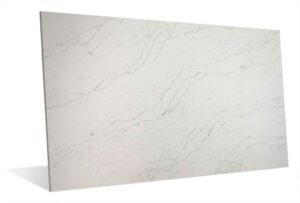 Design trends are constantly changing and it can be difficult to keep up with what's current. Don't worry, that's why we're here. We want to ensure that you have every tool at your disposal to create a beautiful, modern space that's ahead of the curve.
Gone are the days where Grandma clutters her kitchen with every known contraption so there's barely any room to slice an onion. Islands are getting larger. Countertops are getting wider. Cleaner, sleeker looks are popping up everywhere.
In order to match this demand, every new color from our 2020 Elements of Design collection will feature what's known in the industry as "jumbo slabs." Jumbo slabs measure in at a whopping 63" x 126" — that's a full 20% larger than standard slabs. So what benefits do nearly 10 sq. ft. of more surface area carry? So glad you asked.
Reduced Seaming
Too much seaming (where two slabs meet) can really kill the sleek look of a beautiful countertop. Jumbo slabs are cut in such a way so you can minimize those pesky lines and let your quartz countertops flourish.
Fewer Color Variations
Slight color variations from slab to slab is inevitable, but jumbo quartz slabs allow you to fill more space (often an entire island) with just a single slab.
Less Waste
With more room to cut and more surface area to optimize, you can actually cut back on the waste from each quartz slab, which in turn reduces overall costs.
Increased Home Value
As we said earlier, you're going to want to make sure that your space is keeping up with what's current. Standard slabs are becoming a thing of the past and can excel the time in which your kitchen countertops become outdated.
Check out all 21 new colors that we now offer in jumbo slabs as part of our Elements of Design 2020 collection and feel free to reach out with any questions. It's only a matter of time before you have that space and quartz countertops you've always dreamed about.