Understanding the Colors of Vadara Quartz
We all wish we were Bobby, the interior designer from Queer Eye. Wouldn't it be nice to walk into any space and know exactly where to start? Designing any room—especially your kitchen—can feel overwhelming at first. But it really doesn't have to be! There are a few tricks of the trade that you can adapt to make the process as painless and enjoyable as possible.
We've always said that the countertop is the centerpiece of your kitchen. The color you choose for your surface area will set the mood for the rest of the space. But before you refer to that thick Pantone™ book and start holding up every color in the known universe, take a step back and recognize that you first need to decide on how you want the space to feel. Deciding on a hue before landing on a specific color will help you narrow down your selection.
We've separated each Vadara color into 4 main categories of hue: Cool colors, warm colors, neutral colors, and whites. Here's how each one breaks down:
Cool Colors
These are where your grey and blue tones live. Cool-toned colors are the perfect way to make any space feel larger. Small spaces and ultra-modern designs typically benefit from this hue which is why we offer a wide array in a variety of different patterns. Check out Athena which features a white base with blue-grey veins.
Warm Colors
Nothing feels cozier than a room with warm tones. We offer varying degrees of taupes, browns, and beiges to assist in designing the ultimate space for comfort and warmth. Check out Bacara which features a cream base with taupe veins.
Neutral Colors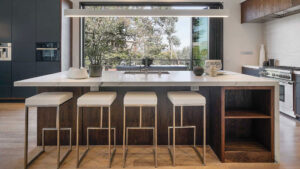 Neutrals offer the best of both worlds. If you find that your space can accommodate various color schemes, neutrals are most likely your best bet as they fit into a multitude of designs. Check out Amara which features a smooth white base with taupe veins.
Whites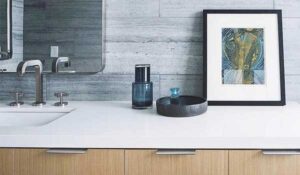 Sleek, modern, and timeless—you really can't go wrong with white tones. Simplicity at its best, you'll find a variety of white quartz colors from stark to off-white. Check out Nieve White which features an off-white monochromatic look.
Remember, the broad design of your space will impact the color of your quartz. So make sure you think a little bigger to determine the hue that will give you the mood you're after. Once you land on that, you are closer to realizing the design of your dreams!