It is said that beauty is in the eye of the beholder, so when you are shopping for a new countertop for your home, it's important to consider what can make that beauty complete. This means it is critical to consider not only your choice of countertop, but what the edges of that countertop might look like. This detail is easily forgotten in all the excitement of finding the perfect surface design, yet it is an important part of your room's final look. So if you want a complete work of art, it is vital that you consider every aspect that makes it beautiful.
The Cabinet Center is fortunate to partner with Vadara Quartz, which will assure that both your completed countertops and their edges are a feast for the eyes. Vadara uses pure, natural quartz, which is one of the hardest minerals on earth. The unique rainbow of colors and patterns within the Vadara Quartz collection make a statement while bringing beauty and elegance to any room.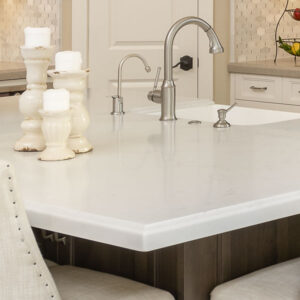 Consider the fact that your countertops are a centerpiece in many of the rooms that your family and friends spend their time. This means it is essential that you consider the effect that the edging treatment will have on the aesthetics of whatever room your countertops occupy. The best edging treatment shows off the beauty of your stone, coupled with your overall room style, and provides extra decorative value. Granite countertops with bevel edges have a beautiful and stylish look, and with Vadara Quartz there to guide you, elegance will be the natural result. Many people love the look of beveled edges, and it certainly is a popular style for many kitchen designs. Its angled cut makes many people think of classic architectural grandeur.
There are several styles of bevel edges. A standard beveled edge is cut at a 45-degree angle and slopes downward. This helps light to reflect off the edge and can make the countertop stone shine like a star. Some beveled edges have a more tapered angle than others. The 1-inch bevel is perfect for a kitchen island, for instance. A double bevel edge has the cut on both the top and bottom of each corner and an extreme bevel is a steeper cut. Some homeowners choose to combine a bevel cut with other types of treatments, which is also an elegant look.
While of course a beautiful kitchen countertop is an important goal, you also want to be content with your space in every other way. Try and imagine what the end result might look like. Visualize the room and imagine its use on a daily basis. The Cabinet Center and Vadara Quarts can walk you through these steps, making sure that your end result is not only pleasing to the eye but functional.
Custom designed, with modern living as a focus, Vadara's extensive collections of quartz surfacing materials will make your home a truly beautiful and warm site to behold for you, your family and your friends.