By: Ed Rogers, Executive Vice President US Surfaces
People's homes have often been referred to as their castle or where their heart is kept. But the Pandemic-era forced telecommunicating and in-home social functions brought a great deal of attention to how homeowners view and use their space.
And that attention has been a boom for the kitchen and bath industry. In fact, the National Kitchen and Bath Association (NKBA) increased their 2021 forecast for the total spend on kitchen and bath new construction and remodeling to top over $170 billion.
While the kitchen may be the hub of the home, bathrooms have become so much more than a practical water closet or shower room – they've transformed into a spa-like retreat that provides wellness and a quiet area for reflection and rejuvenation.
The Demand
A trends study performed by Houzz found that 41 percent of homeowners prioritize creating a space that can be used for relaxation when contemplating a bathroom renovation. And there is a science that supports this homeowner's desire.
The renowned Cleveland Clinic promotes bath time for health reasons. Of course, a bath cleanses the body, but there are also additional benefits. Soaking in a warm bath can create a sense of meditation, which can help reduce everyday stressors and promote sleep – some research states that a 30- minute bath at 104 Fahrenheit may improve depression. When used in combination with Epson salt, a bath can soothe muscles and joints and potentially help heal wounds.
But as interior designers know, there is much more to creating a wellness environment than simply installing a bathtub. The room has to balance ambiance with practicality in order to serve occupants' basic needs while at the same time providing a space for self-care.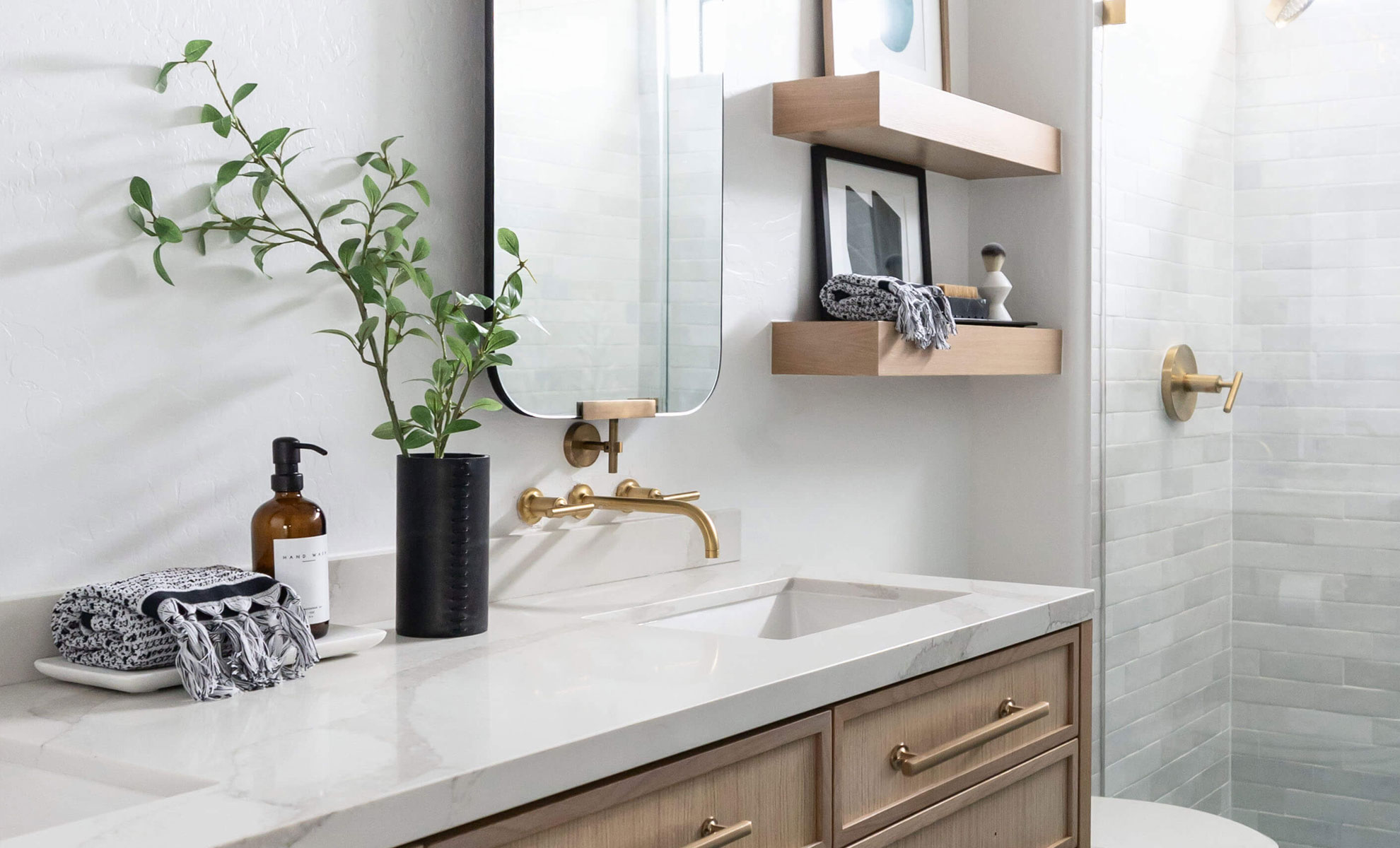 The Balance
According to the U.S. Census Bureau American Housing Survey, 54 percent of homeowners use a professional for their bathroom remodel. That means interior designers will have the leeway to help develop a spa-like bathroom that meets the unique needs and aesthetic vision clients seek.
Selecting colors for the walls should be a reasonably safe decision. After all, walls can be easily repainted. But designers should specify a low or no VOC paint to help maintain good indoor air quality. Then, designers can focus on more permanent elements starting with flooring, countertops, and bathtubs.
There are a variety of flooring options that will work well in a bathroom. Traditional selections like ceramic tile are a staple for flooring because it is water-resistant and comes in an abundance of colors, shapes, and patterns. But other products like luxury vinyl tile or treated hardwood will bring the warmth that wood offers without the fear of potential water damage.
Countertop and shower surround selection will be another significant decision for interior designers. Wellness retreats are often immersed with opulence, and nothing says luxury like beautiful high-end surfaces. But selections should support health and ease of maintenance too.
For example, marble is a popular material, but the decision to use it should be balanced with wellness and practicality. Because marble is porous, it is susceptible to staining, has crevices for bacteria to hide, and requires ongoing maintenance. Whereas handcrafted artisan quartz, like Vadara, offers the same look as natural stone but is stain and chip resistant. Quartz also allows designers the opportunity to match veining throughout applications perfectly. More importantly, the smooth surfaces leave no place for germs to hide, providing wellness value. And because quartz requires little maintenance, end users have more time for relaxation.
Jetted tubs are another consideration to discuss with homeowners. Jetted tubs are, without a doubt, relaxing and soothing. But the jets can collect oil, mold, bacteria, and mildew over time, so they require monthly cleaning. On the other hand, air tubs provide a massage-like experience, albeit not as powerful as a jetted tub, but require little maintenance because they are self-cleaning and drying.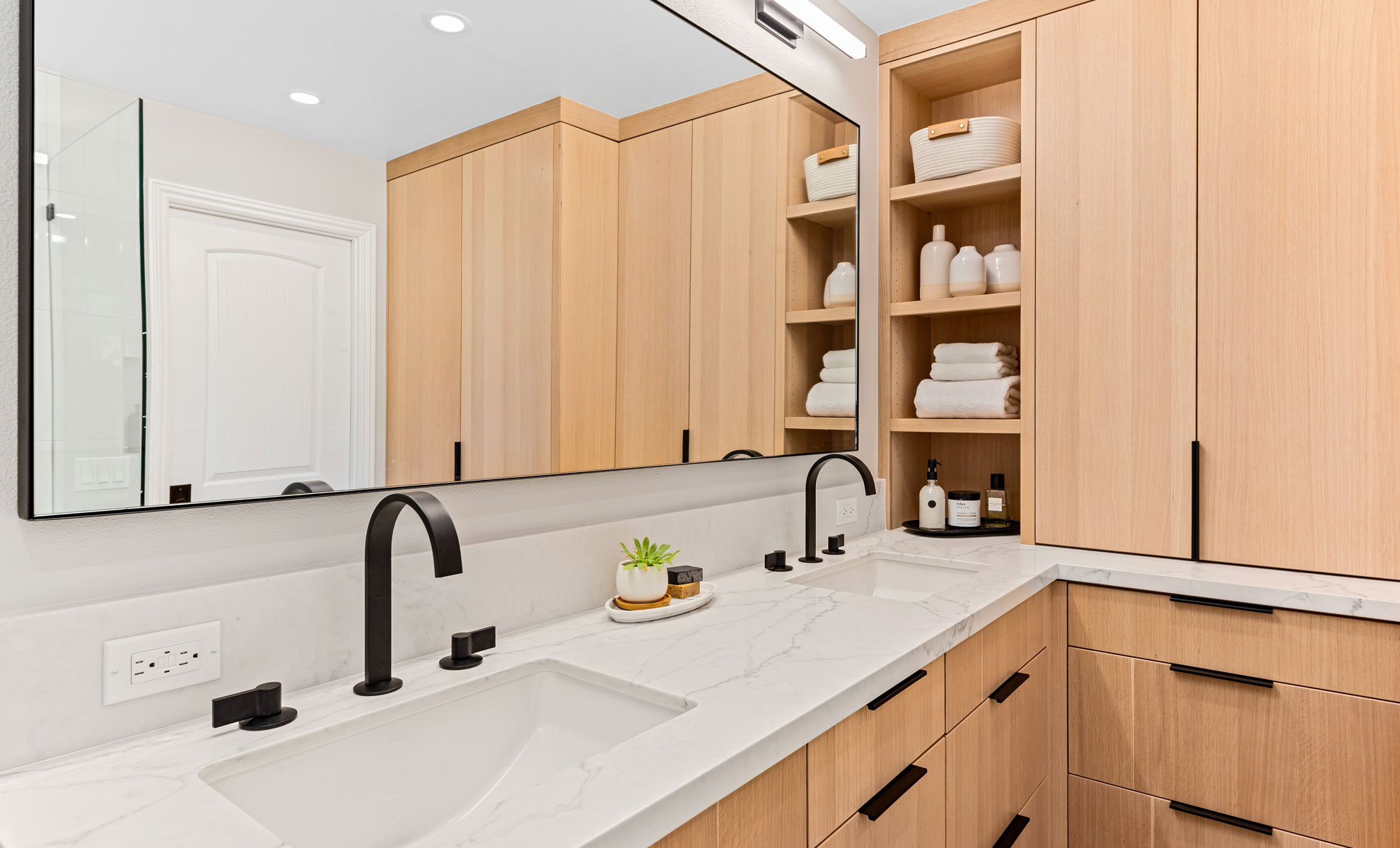 Final Touches
Once the big decisions have been made, small touches will go a long way in creating a luxurious and healthful space. A great example is ventilation – when thinking of a lavish bathroom, vent fans are seldom top-of-mind. But these small and unobtrusive mechanical fixtures serve a significant purpose in managing moisture, contributing to better indoor air quality. Additionally, building codes may require this type of ventilation based on the region.
Installing a heated towel rack will achieve multiple purposes. First, heated racks are a fixture to hang towels, and being wrapped in a warm towel is the epitome of opulence. But they also help reduce humidity, which inhibits the potential for mildew and mold growth. And a bonus is that towels remain fresh for a longer time, so the need for laundering as often is reduced.
Lighting can make or break a room's ambiance and function. But aesthetics does not require sacrificing sustainability or practicality. Adding an LED chandelier (or two) will give the room an elegant feeling while saving energy. And because LED lights last for a long time, the chance for injury during bulb replacements is lessened.
Lately, add a few houseplants to the bathroom. Plants help keep the air clean, and the pots can add a bit of glamor to the space.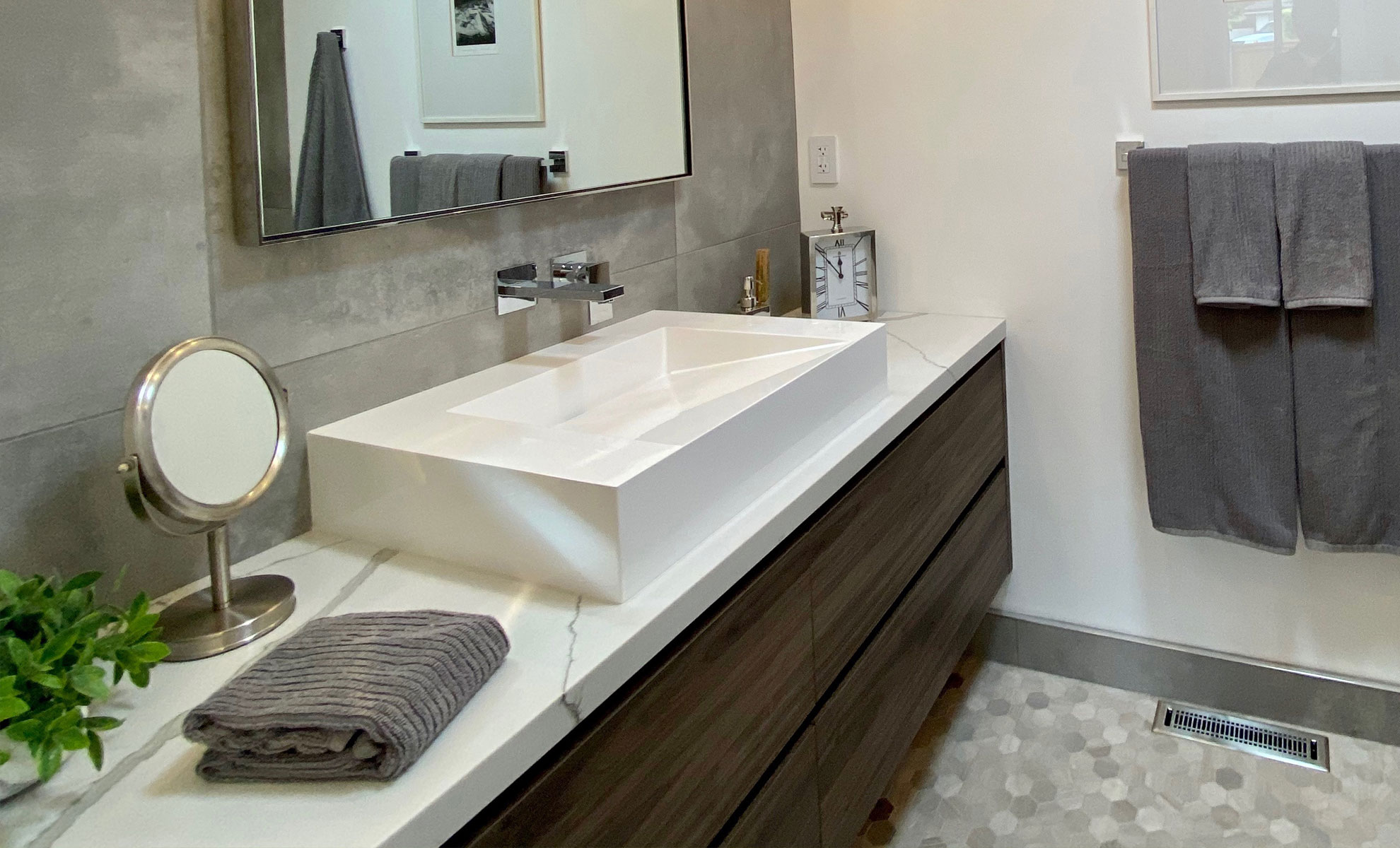 A Worthwhile Balancing Act
Interior designers work hard to achieve their client's dream space. By merging healthier product choices with creativity, no matter the size of the bathroom, it is possible to attain an in-home wellness retreat.